June 3, 2008 - 12:51am
#16
ummm
ummm... "hard" flour
What is as opposed to "soft" flour?
(I'll take wise ass answers for 400, Alex)
seriously. ( -;
(I am not making this up)
looks the same same as "soft" flour.
hard flour has more gluten, which is better (for some reason) for baking breads. my old lady is the scientist gluton expert in our house, the recipe is actually hers.
actually please look here:
http://en.wikipedia.org/wiki/Flour
in the types of flour section, they list "hard" flour that they also call "bread" flour.
I'll quote from that page:
"Types of flour
Much more wheat flour is produced than any other flour. Wheat varieties are called "clean," "white," or "brown" if they have high gluten content, and they are called "soft" or "weak" flour if gluten content is low.
Hard flour, or bread flour, is high in gluten, with a certain toughness that holds its shape well once baked.
Soft flour is comparatively low in gluten and so results in a finer texture. Soft flour is usually divided into cake flour, which is the lowest in gluten, and pastry flour, which has slightly more gluten than cake flour."
******
most people use "all purpose flour" which is less glutanous, and not just exactly perfect for baking bread in our house in the opinion of the bread scientist formerly known as my old lady.
I reckon it depends on where you buy your flour how they call it, or what is available.
even for non-bakers, the naan recipe and cooking is pretty easy to do in the frying pan.
non-bakers who do not have an automatic bread kneeder, should mix and mash it up for about 15 minutes, let it rise in a warm place for 30--40 minutes before frying/cooking it. I forgot to say in the recipe, use warm water, but not too hot or you will kill your yeast.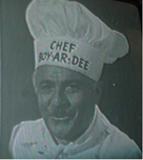 I'm frigging Chef Boyardee over here.
( -:
peace.