In his nightly band introductions, Phil Lesh often simply labels lead guitarist Larry Campbell "The Master." And indeed, he is. Not only is he an incredibly versatile electric axeman, moving with seemingly effortless grace from genre to genre—country one moment, blues the next, then riff-heavy rock, followed by delicate string balladry. He also colors Phil & Friends' sound with spry and mournful fiddle, sweet pedal steel guitar, plinking mandolin, acoustic guitar and even the bouzouki-like Irish instrument called the cittern. He has proven to be endlessly inventive when it comes to crafting melodies, and marvelously supportive when Jackie Greene takes over the lead duties or Steve Molitz solos on keys. He's a solid backup vocalist and also an underrated lead singer: He's done a fine job on a cool assortment of tunes, from the Band's "This Wheel's On Fire" to "Deep Elem Blues." He brings a certain Zen-like calm to the proceedings—his placid, slightly smiling countenance seemingly at odds with the fast-flying digits on his left hand. This guy's got chops galore (and he ain't afraid to use 'em)!
Larry Campbell, wife Teresa Williams and John Molo at Jones Beach Theatre, 7/13/08.
Photo: Bob Minkin © 2008
Although the 53-year-old has enjoyed a long and varied musical career, playing on dozens of albums by artists of nearly every variety, Larry's probably best known to the Dead Head crowd for his eight-year stint playing with Bob Dylan from 1997 to 2004, one of the Mercurial One's best periods. His fret work was showcased on Dylan's excellent, critically acclaimed Love and Theft, as well. But in the decades before these two high profile touring stints (he's been with Phil since the fall of 2005), the Manhattan-based musician worked with such artists as Steve Forbert, Shawn Colvin, Edie Brickell, Marc Cohn, Leon Redbone, Joan Osborne, Rosanne Cash, the Dixie Hummingbirds, Little Feat, Lyle Lovett, B.B. King, Ollabelle and so many more. He also has developed into a producer of note: He earned a Grammy this year for co-producing (and playing on) Levon Helm's exceptional Dirt Farmer album. That disc also prominently featured Larry's wife of 20 years, singer Teresa Williams, who has also joined Phil & Friends on their last couple of tours.
Larry, on pedal steel, and keyboardist Steve Molitz
at the Warfield in S.F. 5/16/08.
Photo: Bob Minkin © 2008
After playing phone tag with Larry for a couple of weeks while Phil & Friends were on the road, I finally caught up with the affable guitarist in late July, on a somewhat sad occasion—he was driving back to his Manhattan apartment from Woodstock, where he'd just attended a memorial service for a good friend of his—the great New York folk guitarist and singer Artie Traum. Larry and Levon Helm sang "Angel Band" for Artie; no doubt beautifully. Still, Larry was in a good mood as he spun a few tales about his life in music.
You grew up in Manhattan yet you've said you heard a lot of country music as a kid. How'd you manage that?
My father and my mother had this incredibly eclectic record collection, and they played it all the time while I was growing up. A lot of the stuff in there was Hank Williams, Jimmie Rodgers, the Sons of the Pioneers, Elton Britt [a Rodgers-style yodeler]—obscure and not so-obscure country music. In with those were great opera records, show tunes, Sinatra.
Did your parents have country roots?
Nah, my father grew up in the Bronx [Laughs]. He was first-generation from Scotland. And my mother came here from Spain when she was really young.
Did your father have a Scottish accent?
No, but he could put it on when he wanted. I never understood a word my grandparents said!
Was he musical?
He was a really good singer. He had the Celtic gift of song.
I gather you were another one of those kids who had a light switched on in their heads by the arrival of The Beatles.
Yeah, incredibly. Literally, the world was a different place the day after The Beatles appeared on Ed Sullivan [in February '64]. It could have lasted for just that next day, but instead it just exploded and changed the world. You can't deny it: What they started from that one occurrence ended up changing the world. It's a long journey from there to here, and there's a lot more involved, but for me and ten million other people, that was a very big event. It's a lot of why I got into guitar, for sure.
When you first started playing music on your own, how much of it was playing Beatles and early Stones and things like that, and how much of it was stuff you were digging out of your parents' record collection? Did you immediately start playing "Your Cheatin' Heart" because it's easier to play than some of those Beatle songs with weird chords?
[Laughs] I got to Hank Williams maybe a year into it. The first year it was all Beatles; that's all I was interested in. I was also copping stuff off the radio, like Sam the Sham, and all that. But the biggest discovery I made was copping the changes for [the Lovin' Spoonful's] "Summer in the City." I had never heard that progression anywhere else. I really struggled with it, but I finally got it and I thought, "Oh, man, I am cool!" [Laughs]
They were local boys, too.
Right. In fact I just left [Spoonful leader] John Sebastian a little while ago. He was up at Artie Traum's memorial service, too.
After that first year, I started remembering how much I dug all that Hank and Jimmie Rodgers stuff—especially those two guys—and I became enthralled with how simple it was to play. And then I started listening closely to the electric guitar in [Hank's music] and that rhythm playing that he did, and some of the solos were not difficult to cop. That stuff has always hit me on an emotional level that nothing else does.
So much of learning to play as a guitarist and even finding your way to a method of learning, is finding sympathetic players. Was it hard to find people in New York who were into playing that kind of music?
Initially, yes. I really didn't find anyone interested in playing country music until I was almost through with high school, and by then it's 1970 or '71, and everyone had been exposed to the Flying Burrito Brothers and The Dead and The Band and the New Riders and Poco and all that, so now it was hip to be playing country.
Did you love country-rock as much as you loved the original hard core early stuff?
Absolutely! I loved all of it! But country-rock actually made me go even further into the roots of that, and I started devouring George Jones and the Louvin Brothers and Merle Haggard—I went nuts for that stuff. And though I loved what Poco and the New Riders were doing, I didn't want to do that exactly. I wanted to hear where they got it from and then do something with it myself. I wanted to absorb the influences and come at it my own way.
For a couple of years after high school—I graduated in '71, at 16—I played with a local band here called Cottonmouth, which was one of the only bands in town that was experimenting with American roots music—bluegrass-y songs, folk-country, Nashville country music and the blues thing. We were trying to do our own version of what the Burritos had done, and the New Riders had done. That was my first outlet for that kind of synergy, and that experience was really important to my later development.
Next, you went out to California and played in a country band there?
I went out to L.A. [in 1973] pretty much on a whim with two friends and I stayed out there and starved for a few months. Then I hooked up with this country band led by this singer named Ben Marney. He was signed to Playboy Records, which had Mickey Gilley and Barbie Benton and a few others, though nothing ever came of that record association.
Well, as long as you got to go to the Playboy mansion…
I did! I did get to go there once. That was cool. [Laughs]
This was a hotel band/lounge act playing country music, which didn't completely ring my bell, but it was an opportunity to play music for a living and the guys were great people.
So, were you playing country standards—"Your Cheatin' Heart" and "D-I-V-O-R-C-E"?
There was some of that, but not as much as I would've hoped, because at that time—the mid-'70s—there was a lot of that sort of Olivia Newton John/Glen Campbell country pop thing going on…
Yikes! Not my favorite music: "I am a lineman for the county…."
Exactly. Not my favorite, either. But it was an opportunity for me to hone my fiddle and steel playing, and bring my influences into our versions of these songs and make them more interesting.
Can you back up for a second and tell me when you got into those instruments?
I started with guitar, and then around '69 or '70 or so, I suddenly wanted to learn all these other instruments. I got an old fiddle from somebody at school. Some old guy who lived in my building gave me a mandolin. I started messing around with them and picked up a few things here and there. Then, by around '73, when I could afford it, I bought a banjo and a pedal steel.
Keeping up with Garcia, eh?
Nah, I wanted to be Lloyd Green.
Guitar to fiddle is an interesting jump.
Yeah, and it still causes me problems! There are no damn frets on it! [Laughs] Of all the instruments, fiddle is the one that will bite you in the ass if you don't pay attention to it. You really have to stay on top of it—or I do, anyway. I can't lay it down for more than a week or so and try to pick it and play it without doing some 'shedding.
So, going back to the Marney band, you re-locate to Jackson, Mississippi of all places. What was that all about?
Well, we played there a couple of times and did really well for some reason, and a few events led to Ben opening a club there, called Marney's, and he asked us in the band if we wanted to do this sit-down gig in Jackson, Mississippi, for a while. Why not? It was a great time to party in Jackson, and at that time that was high on my list of interests. [Laughs]
Was that playing a few nights a week in the same place?
It was six nights a week and it became a real hot-spot.
What became of Ben Marney?
He's around, still performing. I think he had something happening in Branson [Missouri] at one point. [BJ notes: Actually, it was Myrtle Beach, SC, another mainstream country hotbed. He and his wife Dana have now been performing together for more than 30 years; for the last six regularly on Disney cruise ships!]
Were you content being second fiddle, no pun intended?
Absolutely. My interest has always been… I've been absorbed by the instrument that I'm playing at any given moment, and that means being the front-man in the band doesn't give me the freedom to be the instrumentalist I want to be. It's that, and I just don't know how comfortable I'd be in the front-man role. Over the years, I've developed the ability to step out there occasionally, but it's still not where I'm most comfortable, and I love being an instrumentalist.
I've been singing recently because I love singing with my wife, Teresa. We've been doing it for a long time just for the fun of it, and that's encouraged me to do it more in front of people.
Well, you do nice versions of "Wheel's on Fire" and "Deep Elem" and "Big River" with Phil's band.
I don't know… I'll go as far as to say I don't have to hang my head in shame, but it's not Buddy Miller, let's put it that way. [Laughs]
I love Buddy Miller!
Me, too. He and Levon are my favorite white male singers.
When you were getting your chops together, could you hear the influences in your playing when you'd listen back? Did you feel after a certain point you were speaking with your own voice, instrumentally?
That's a good question. Let me think… I never feel like I've fully developed my thing…
The musician's curse—never quite "there."
That's right. It's a constant quest. Every once in a while I'll hear myself playing a lick and I think, "Oh, that's Chet Atkins right there. I remember sitting down and copping that, and I just used it." Things like that will happen. But there are moments—and this happens with Phil more than with anyone else, where you get into the stream of the music and you get lost and you're not thinking, and that's where your own voice pops out. There's no planning or preconception and you don't have time to logically think out an idea—you're just reacting to what you hear and going on your instincts. That can sometimes be disastrous, of course, but the beauty of it is when your subconscious takes over and you become a musician expressing himself on a real pure level. And when those moments happen you don't realize it until the moment's over and you're thinking, "What was that? That was great! I didn't know I could do that!" [Laughs]
You came back to New York around the time of the Urban Cowboy craze at the beginning of the '80s. How had the town changed in the years you were away?
I was away from New York for around four or five years, and the Urban Cowboy thing—again, not my favorite development—was such a huge fashion trend here, it opened up a lot of people to hearing country music—the good stuff, too—and that became a great opportunity for me. Clubs all around New York suddenly wanted country music—even though some of them didn't really know what that meant—so any band that was put together with good knowledge of and healthy respect for country music was going to work.
A lot of the work I did around that time was at the Lone Star Café, which was just a magical place. All the good stuff was being played at the Lone Star, from Muddy Waters to Bill Monroe to George Jones to James Brown and The Band. So much great music ended up there. I first went in there to play with Kinky Friedman, I think it was—he had a regular Sunday night sit-down gig there. And through that I ended up working with Doug Sahm, with Buddy Miller, Willie Nelson—all sorts of great people. That's where I first met Levon and those guys.
You also started doing tons of sessions around this time—both album work with people like Steve Forbert and Tony Trischka, and commercials, too.
Right. It's a small world musically around here, and in those days at least, reputations were made pretty quickly, because there were a lot of places for exposure then that don't exist now.
What did you think of the discipline of playing jingles, where they usually are looking for a very specific sound—often a copy of something that's popular?
It was kind of harrowing at first because my [sight] reading was kind of nowhere, and all it took was one embarrassing moment and I got that together fast. Normally, what I could do is, if there was music in front of me, I'd go to the piano player and say, "Let me hear this." And it would usually be something simple and recognizable on some level where I'd think , "Oh, I can play that," and get away with it that way. Then, once you run it down once, it pretty easy to get it better. But there was one time I was playing steel on a Wrangler commercial and there was this intricate melody in front of me, there was no piano player there, and it was on the clock, and just as I was sort of fumbling through it trying to figure it out, they counted it off and I was supposed to be right there at the top and I wasn't there and it was really embarrassing. Eventually, I got it, but I had held them up and I promised myself that wouldn't happen again. So I immersed myself in getting the reading thing together. And it helped a lot—it really broadened my scope, because I was then able to a lot of other things. I ended up doing a Broadway show for a couple of years…
Really? What was that?
Will Rogers Follies, which had an original score by Cy Coleman [of Sweet Charity and Barnum fame].
That was a big hit [in 1991]. Were you in the pit band, and was it fun?
Well, the first two weeks it was fun! [Laughs] No, it was okay, and it was a secure, steady-paying gig.
And since it was at night you still had your days to do whatever.
Exactly. There was some sort of comfort in that routine. It wasn't the most musically rewarding thing I've ever done, but I had to stay sharp to do it well. I played pedal steel, banjo, fiddle and guitar, so consequently it was hard for me to find a sub, so I really had to be there. When I wasn't there, the string section would take over the fiddle parts—much to the dismay of the conductor. But it was a great musical experience, and another thing that broadened my horizons.
Another thing I did was this friend of mine, Stan Bronstein, who used to play saxophone in Elephant's Memory, which was the band John Lennon was in for a while, put together this Big Band/swing band, and asked me to join. I'd never played that kind of music before, so that opened up a whole new world for me.
Did you have to go out and get a big hollow-body Gretsch for that?
Actually I got a [Gibson] Johnny Smith from Buddy Miller, and that worked perfectly.
But I bring these things up because here's a guy who just wants to be The Beatles when he's starting out… But if you keep the doors open and let anything that can be called good music in, and you walk down that road for a while, it really pays off.
So was that band a lot of standards and jump- blues and things like that?
A lot of early '50s jump/swing stuff. Louis Jordan and all those guys—and a lot of straight ahead Big Band Tommy Dorsey/Benny Goodman kind of stuff. I learned so much about chordal harmony and chordal purpose playing that music—following what the horn section was doing chordally. It was fascinating.
Now we arrive at your stint with Dylan, which was through...who?
Tony Garnier, the bass player
Is that something you ever aspired to, or did it just suddenly come along?
Well, when I first started playing the guitar, around all the Beatles stuff there was Dylan, whom I was equally enthralled with—not as much on a musical level at that point, though I always thought he wrote good melodies. The first time I saw him live was probably 1968 at Carnegie Hall at this tribute to Woody Guthrie. It was Pete Seeger and Joan Baez and Judy Collins and Tom Paxton and Arlo and all these great folksingers—each of them getting up and doing Woody Gurthrie tunes. I loved every minute of it. Then at the end here comes this ragged rock 'n' roll band and Bob Dylan, and my jaw hit the floor when I heard that. It was mind-blowing! That was the first time The Band came into my sights, too. And that's when I really started getting into what Bob was doing. I do remember thinking around that time, "I want to be the guitar player for this guy."
I've always completely respected what he's done and was really glad, of course, to get the call to come down and play with him. I ended up staying with Bob for eight years—from the beginning of 1997 to the end of '04. [His first show with Dylan was 3/31/97, the last was 11/21/04.]
I remember when I interviewed Garcia one time in the late '80s—after he'd dome some rehearsing with Dylan, but before the Dead toured as his backup band—he said something to the effect of how great playing with Bob was, but he doesn't know how to begin a song, he doesn't know how to end a song, but the rest of it is fantastic. He said you really have to try hard to follow him, because if you're not following him, regardless of what he's doing, you're wrong.
That's exactly right.
Was it hard to ease into that aesthetic? Because you're a pretty precise and together player, and Dylan is pretty loosey-goosey with rhythms, and his guitar playing is…uh, unique.
That's true. With him you just kind of have throw it out there and do the best you can. If it's the right chord, great. If it's not, so what? [Laughs] As far as precision music goes, it's impossible to play that with him. As far as creating a vibe, though, that's a whole other story.
There's always been a certain anarchy about whatever he's done—his singing, his playing. There's this bohemian and, later, almost punk sensibility that goes through his thing, you know? And he sort of owns that, and it gives him a lot of leeway to throw precision out the door, because this is what his thing is, and that's what a lot of his following likes about him. That and the really high level of poetic expression he's managed to create. But there's a lawlessness and a sort of visceral approach to the music which is something completely unique to Dylan. Even for an experienced musician, to follow that [approach] is often difficult, but I looked at it as another avenue of musical expression I had to absorb.
You have to accept that he is constantly re-inventing his melodies, and as a support musician you have go with his whims.
You have to be on top of that all the time. Sometimes you wish he'd sing the melodies as he wrote them, but whatever it is that drives him not to, that's his thing.
He's known for being famously hands-off with his groups. Did you find that was the case, in terms of any kind of direction he offered?
It would vary. Sometimes he'd be totally involved in it, sometimes not. He might direct people in what he wanted you to play.
You were with him during a particularly good time. People really liked that band. You must have been aware that it was special.
Well, I was and I wasn't. It's not an easy gig. [Laughs] If I had been playing that way with anybody else, I would have thought, "This is the sloppiest band I've ever played in." But doing that with him, and I eventually came to relax about it, I realized that was the point—not sloppiness, but the approach the sloppiness was resulting from. If I listen back, I can hear what it was that so many people were impressed with. There were great musicians in that band—Tony's an amazing bass player. [David] Kemper and [George] Receli were both great drummers. And when Charlie [Sexton] was in the band it was a real special thing.
But the touring was endless…
It really was "The Never-Ending Tour." I would think I had time to do these records I was offered—either producing or recording: "Great, I've got this blank space here!" And then I'd suddenly get a call: "We're going out this month." So I couldn't do a lot of other things I wanted to do while I was in the band.
Before we get to Phil & Friends, tell me a little bit about how you got together with Teresa, to whom you've been married for 20 years now.
She's from West Tennessee and was kind of a pure country singer, and she was a stage actress, too, doing mostly regional theater. In fact, she was cast in a play about the original Carter Family; she played Sara Carter. She was doing that while I was with Bob and we would rarely see each other. We met in 1986, briefly. She had a gig at the Bottom Line and put a band together to do this thing and I was called to play guitar, but the day of rehearsal I cut my finger and couldn't play guitar, so I ended up playing pedal steel on it, and John Leventhal played guitar.
She knocked me out. It was ridiculous. [Laughs] Then about a year later I saw her again at this club I was playing in. When I saw her, I leaned over to the woman who was playing bass with us and said, "I'm gonna marry that girl!"
Classic!
[Laughs] And the year after that we were married.
How much have you been able to play music with her through the years?
Not much, other than casually just for the fun of it. We'll do this big 4th of July thing her father has down on the farm in Tennessee. All the local players come by and we make music together there.
After I left Bob, we started singing together a little more. A few things came up where I was promoting my acoustic guitar record [Rooftops, 2005] and we did some things together. At the time I was producing the Ollabelle record [Riverside Battle Songs, 2006] there was a little bar in the Village called the Bouche Bar those guys would hang around and play in, and Teresa and I would go down there and play, and Amy [Helm, Levon's daughter, member of Ollabelle] heard us there and started singing with Teresa. That was a beautiful combination, and when Amy and I started working on Levon's record, Amy spared me the potential act of nepotism and brought Teresa in. Amy, Teresa and Levon sounded so good together!
You must be thrilled with the reception that album [Dirt Farmer] received—tremendous reviews, a Grammy!
It couldn't have gone better. Frankly, it's probably the coolest thing I've ever done; the coolest thing that's happened to me in my career. 'Cause it's Levon, who sings all the kinds of music I love with complete authority. And then having an opportunity to do a record that gets back to the roots of where he came from, and the roots of his influence in The Band, and having Amy and Teresa involved with it... it was an amazing experience all around.
That [album] got the music thing with Teresa and me greased. Now, recently, we've started our own record, but we've had a tough time finding the opportunities to work on it because other things keep coming up.
Phil brought Teresa in on that last Nokia run [fall 2007] and it worked out really well, and then it was his idea again to add her to this lineup.
That must be a lot of fun for you.
It's been great. We have a great marriage, but a lot of times a great marriage doesn't turn into a great professional relationship, too. Normally something has to give there. But this has been working really well. It's like when we're working together we look at each other differently and none of our personal thing gets involved in that, and vice versa.
So… How did you get involved with Version 23 or whatever it is of Phil & Friends?
[Laughs] My first encounter with Phil was when Phil & Friends—which at that time [summer 2000] had Paul Barrere and Robben Ford on guitars—did a couple of tours with Bob [Dylan]. We'd alternate opening and closing the show. And when Phil would open, I'd sit out there and watch them, and I thought, "This is great—these people are having fun!" They were inventing it as they went, as a group. Phil and I had a good rapport; we got along really well.
What was your background with the music of the Grateful Dead?
I was a peripheral Dead fan. Certainly a big fan of Workingman's Dead and American Beauty. I was way absorbed in those records. The first time I saw them play was in Central Park in 1968, I think it was, and I was very interested in what they were doing—not really understanding it, maybe. I always respected what they were doing, though I was never a Dead Head per se or an emulator of Garcia, although I always liked his playing and thought he was really original. I was also interested in the roots of what they were doing.
Well, they had similar roots as you.
That's right.
So you're touring with Dylan and then eventually you leave that situation…
And a little while later I ran into Phil at the Jammy Awards, and he mentioned he thought it would be great if we could play together some time. Then, a couple of months later, Jimmy Herring was leaving the band, or he couldn't do a tour, so Phil called me and asked if I'd be interested in coming out. Chris Robinson was singing on that tour…
I liked that lineup a lot. He's a really good singer.
Chris is a great singer and really added a lot, I thought. Interestingly enough, Chris' musical sensibilities and mine are really well-paired. His iPod is full of stuff I love!
It's the new way we judge people!
[Laughs] Right. In fact he also turned me on to a lot of good music I'd never heard before. Barry Sless was the other guitar player and he's another monster. I love his playing. I felt pretty comfortable fairly quickly because I didn't have to worry about my limited knowledge of the important Jerry stuff in each song, because I knew Barry could cover it.
Even if you're not playing "like Jerry," there's still a fairly steep curve of riffs and melodic figures that are part of the songs…
It's a lot to learn. Phil sent me CDs of something like a 180 songs…. [Laughs] "Lady with a Fan" into "Terrapin Station"—sure, I'll get that! [Laughs] "Help on the Way" into "Slipknot!"—no problem! All these songs; it was crazy!
So that was the first tour I did with Phil, and I thoroughly enjoyed it, because it was a new thing for me—that particular type of musical freedom was something I've never had before: "OK, we'll play this, this is what you'll play up through here, and then…just go somewhere, do something! Come up with something! Invent! Listen to what everyone lese is doing, Grab something from somebody else, develop it!"
It's kind of a musician's dream. Throw something new at me and I'm all over it. And in this band you get new stuff every night, without fail.
What's been the hardest part of it?
The repertoire is so vast and the songs rarely get repeated often during a tour, so it's sometimes hard to retain both the vibe and the essentials of each song.
I guess it helps that you have two-hour soundchecks. Jackie was telling me it's harder than a real job!
It's work for sure, but it's work that pays off.
I'm guessing you've never played with a bass player like Phil Lesh.
No. Though, at the memorial service today, I was talking to Levon about the similarity between Phil and Rick Danko [of The Band]. He said Phil and Rick are two of the only guys who can be bass players in a band, keep the groove, but play that instrument like a guitar and take it places where a groove player would never go. And make it mean something—that's the trick. Levon was on a bunch of the shows on this last [Phil & Friends] tour, so he got to see Phil play a lot, and that was one of the things that struck him.
You've been through several incarnations. You mentioned Chris Robinson. You were also part of the group with John Scofield…
Scofield is one of my favorite musicians on the planet! He's one of these jazz cats—a complete burning jazz player—but he never loses sight of the soul. He never loses sight of Albert King, you know? Whatever he's playing, no matter how intricate or outside or sophisticated as it may be, it's still got the blues behind it.
When I heard that band, I was surprised how much of the Garcia stuff he seemed to have absorbed.
He's a very broad musician and also very generous—he wants to hear what you're doing, as much as you're standing there google-eyed over what he's doing. He's got great ears; He hears everything that's going on.
This current group has been together about a year now and obviously has gelled well. Tell me about playing in this band.
It's been great. This was my introduction to Jackie, and this is one talented cat, man! Jackie has listened to and continues to listen to all the good stuff. For someone his age [27] he has an incredibly mature approach to the music and to songwriting. You just don't expect that out of someone his age. And personally, too, he's great to be around.
A lot of times when I'm around people his age, I see a reflection of my own cockiness at that age, and I think about all the mistakes I made back then. I don't see that in Jackie. I think of him more as a peer, as a guy whose artistic sensibility is really mature.
This group started out being more song-oriented and it's evolved into a unit that's gotten more comfortable with jamming, which is perhaps the more traditional Phil Lesh & Friends mode… Has that been a comfortable transition for you—to move into the outer reaches of "Dark Star" and freeform jams and all?
Absolutely. But you shouldn't go there until you've gotten intricately familiar with the songs and with the kinds of places they can go. That's what we were doing at first—becoming familiar with them. The more we know the songs, the more license we gain to get to those jam sections and make something out of them. And a lot of that is Phil being able to sense what we're comfortable with, and knowing what can we do.
It's nice how you and Jackie have come upon your roles in those songs—how in "Dark Star," Jackie might be playing slide or working the volume controls or wah-wah, while you're doing more of lead melody…
That's all evolving nicely. We try to give each other a lot of room.
And Molo's a monster…
If nothing is happening up there, I just stand in front of Molo and listen to him for a few seconds and I start to get ideas. [Laughs] The guy is a master at this genre of music. He can turn on a dime and he's always got something interesting to say rhythmically, and he's completely inspiring.
I'd never heard Steve Molitz before this band and I've really been impressed by him…
I hadn't heard him, either, and he brings a unique thing to the group, too. I was completely ignorant of the Particle scene. One of the greatest times I've had with Phil in this configuration is the few times we've done this song called "Elevator" that Steve did with Particle—it's a blast! He uses those electronic keyboards in a really creative way, and to be able to figure out a role for the guitar in that kind of music is another new thing for me. I'm discovering, as I did with swing music and Broadway and everything else, that when you open a new door, you're usually going to find something you really like.
It's cool, too, that you've been able to incorporate acoustic instruments. You get to play fiddle and mandolin and even bouzouki, for God's sake! Where and when did you take up bouzouki?
In the late '70s, I was playing with Happy & Artie Traum and Jim Rooney and Bill Keith—the folk scene. I was over in Europe a couple of times for folk festivals and the Celtic thing was mesmerizing to me. Like I did with country and bluegrass and blues, I got absorbed in the traditional Celtic thing—the Boys of the Lough, the Battlefield Band and all these great singers and musicians—and I kept seeing this instrument, the cittern, which is based on a combination of this really old instrument and a Greek bouzouki. In the beginning of this Celtic revival, there were no citterns around, so people used bouzouikis instead. But then people started making these modern citterns, and I decided I had to have one!
And that's what you've been playing with Phil.
Right.
Where do you see this band going? Is it just going to be a live entity for a few months and then disperse to the winds?
I think eventually we're going to do a studio record—just because of the potential to do that in this configuration. Whether we can actually coordinate our schedules and our concentration, and whether Phil wants to pursue that, I don't know. But I think we could make a good record, and he's hinted he's open to it. Where it will go, though, I can't predict, but I hope it goes somewhere, because it's a really fulfilling experience for me.
Let me ask you one guitar question. You carry a bunch of guitars—what's determining when you play a Les Paul and when you play a Strat? And do you tend to play certain guitars on certain songs each time?
I haven't really landed on, "Well, this is the perfect guitar for this song." Maybe a couple—I'll definitely play that Telecaster on "Cumberland Blues" or "Big River." My Strat is kind of Frankenstein. It's got EMG pickups and a preamp in it and it's got its own sound, and it's pretty versatile. But sometimes you just want to have a Les Paul in your hands, too.
Is anything determined by what Jackie's playing on a given song? If he's playing his SG, do you not want to play a Gibson?
I'll sometimes take that into consideration. But usually it's just what I'm feeling in the moment. I'll see the song coming up on the list and think, "Yeah, the Les Paul will work on that tonight." But another night I might think, "Oh, that's a Strat tune!" It changes. You have to be flexible in this band. I learned that really quickly. [Laughs]
Display on homepage featured list
Off
dead comment
A wonderous addition to the Scene. A must hear/must see.
Blair, thank you for yet another insightful interview. I love to hear what a musician's roots and influences are. I have seen Larry both with Dylan and Phil, have enjoyed his work and can hear and feel his joy in playing. I recently posted some pictures of Larry and John Scofield playing with Phil and Friends at 10,000 Lakes Festival. I was thrilled to watch the two of them jamming together. Click on my name and you can see them in my account. I share the love you guys have for the talents of Buddy Miller. Keep up the good work, Blair and Larry. This version of Phil and Friends is thrilling, do not miss. If the doors of perception were cleansed, everything would appear to man as it is, infinite. William Blake
I just became familiar with Larry recently starting with the Nokia Theater run in NYC last fall. Leading up to that show I picked up Dirt Farmer and coincidentally saw Larry was featured on that. I really enjoyed that album and his work on it so I began looking forward to the Nokia show even more. I was not disappointed. I loved Larry's playing on everything. There was a slick and awesome version of Alabama Getaway I really thought was great. Greasy and in the pocket over a just perfect Molo. I heard a lot more about Larry from a friend of mine who's worked with Larry (in his 1980's NYC studio days discussed above). Then I got to see Larry with Levon Helm at Newport a couple weeks ago and that was great. I'd still like to see them in the more intimate setting at Levon's studio up in Woodstock too. I hope P&F's do a studio album in this config as mentioned as a possibility in the article. That would be great. I would buy it the first day it came out. Great article. * * * * * * * * * * * * * * -enjoyin' the ride
Larry and Blair (and Phil, of course)!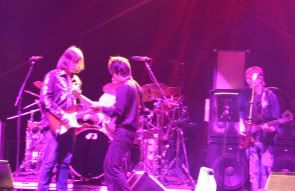 (My photo from this year's Bonnaroo)
(Grateful Dead artwork copied from this web site - http 3A//
www.jlc.net/~debess/gdlinks.htm
- I found using Yahoo's image search)
Great interview - now, can someone suggest a good starting point if I want to check out Buddy Miller? Thanks!
Two good Buddy Miller albums are "Cruel Moon" from '99 or 2000 and "Universal United House of Prayer" from '04. He's also all over Emmylou's "Spyboy" live album, too; he's toured a lot with her in recent years...
I just read your article on Larry.I have had the pleasure of seeing and hearing Larry ,Theresa, Levon, Amy and all the other Great Musicians - Singers at Levon's Ramble. I have been to around 50 or so in the last couple of years. A couple of friends of 30 or so years are in Levon's Crew ,this is how i ended up there. I play Harmonica for almost 40 years now and have played on the back deck at levons with Little Sammy for over an hour one night. It was a blast and one day if its in the plan i will have the oppertunity to play with the entire crew at Levon's. All i'm saying is Larry Is one of the most incredable string players i have ever heard and being at a ramble is one of the Greatest places on this planet.So you keep it up my Brother!!! Mike Grant Bones
Bob Dylan concerts just haven't been the same since Larry left the band. Come to think of it, they haven't been the same since Charlie Sexton left.
Saw this configuration of P&F at AllGood Music Festival and was completely blown away.
Elvis Costello did a short run in '05 as "Elvis Costello and the Imposters featuring the vocal stylings of Emmylou Harris" or somesuch. We caught this from the 3rd row at the Pavillion in Boston...a truly sublime show. Larry was stringmaster for the "country" portions of the show, moving from pedal steel to mandolin to fiddle to who-remembers-what-else. I'd seen him with Dylan, and jhave just seen him with P+F.... and am gaining a deep admiration for the man's talents as a player and producer. Thanks for the interview!